Discover more from Peter Boghossian
Fostering civil discourse and cognitive liberty through Spectrum Street Epistemology
Over 13,000 subscribers
Livestream Interviews Roundup | November 10, 2023
Hate Speech Laws, the Sexual Revolution, Psychedelics, and more
This week in my Conversations with Peter series I had the pleasure of speaking with Toby Young, Louise Perry, and Alexander Beiner.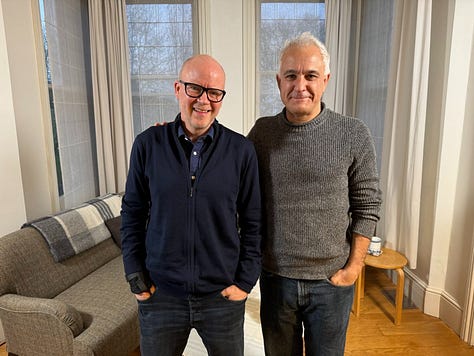 While we interviewed Toby in the traditional sit-down manner, we switched to the Spectrum Street Epistemology format for Louise and Alexander. This format allows us to have an interactive conversation where my guest and I can explore our beliefs and contentions together.
We would love to know your thoughts on our new style for interviewing guests. Please let us know in the comments below.
---
"Hate Speech" Laws Silence Dissent | Toby Young
On Monday, November 6, 2023, Toby Young and I discussed free speech. Toby is an author and social critic, and is called one of Britain's "most controversial broadcasters and journalists." He is the founder & director of Free Speech Union and editor-in-chief of The Daily Sceptic. He is an associate editor of The Spectator, where he has written a weekly column since 1998. Toby advocates for classical liberal education and co-founded the West London Free School.
In 2022, PayPal blocked the accounts of Free Speech Union and The Daily Sceptic, along with Toby's personal account. PayPal reversed the ban and apologized for the "inconvenience" after British MPs accused the company of politically-motivated censorship.
Sexual Freedom + Sexual Restraint | Louise Perry
On Wednesday, November 8, 2023, British author of "The Case Against the Sexual Revolution," and journalist Louise Perry and I explored claims ranging from prostitution to motherhood.
A few examples of the claims explored: 
Prostitution should be legal

If all pornography magically disappeared, the world would be a better place 

I would rather have been born male than female 
Louise writes for the New Statesman, The Daily Mail, and UnHerd. She is the press officer for "We Can't Consent to This," an organization addressing increasing incidents of women killed by sexual violence described as consensual. Louise hosts "Maiden Mother Matriarch," a podcast about sexual politics.
Dialogue, Human Connection, & Psychedelics | Alexander Beiner
Today, Friday, Nov 10, 2023 author of "The Bigger Picture: How Psychedelics Can Help Us Make Sense of the World," and journalist Alexander Beiner explored claims ranging from DMT and AGI to whether prayer works.
A few examples of the claims explored:
There is something beyond the material 

Prayer is a form of dishonesty towards oneself

AGIs should have rights
Alexander facilitates courses, retreats, and events to foster inner development and human connectedness. His writing is published on Medium, UnHerd, Psyche Magazine, and Substack.